By Hartt Wixom
Dozens of fishermen have paid Steven Davis of Ivins nearly one thousand dollars a day to guide them on Flaming Gorge Reservoir. Reason: he got them into lake trout from 20 to 48 lbs. If he didn't, you got a free trip.
I first fished this lake, astraddle the Utah-Wyoming border, when it was a brown trout haven. Steve came along when the water began producing giant lake trout (Mackinaw) — at least, if you know where to find and entice them to the hook.
Why hire a guide? Steve's research showed that it takes the average angler some one hundred hours of fishing on Flaming Gorge to catch one large lake trout. On an average day, he says, "We caught from three to 10 big fish, or 10 to 40 times the average unguided rate."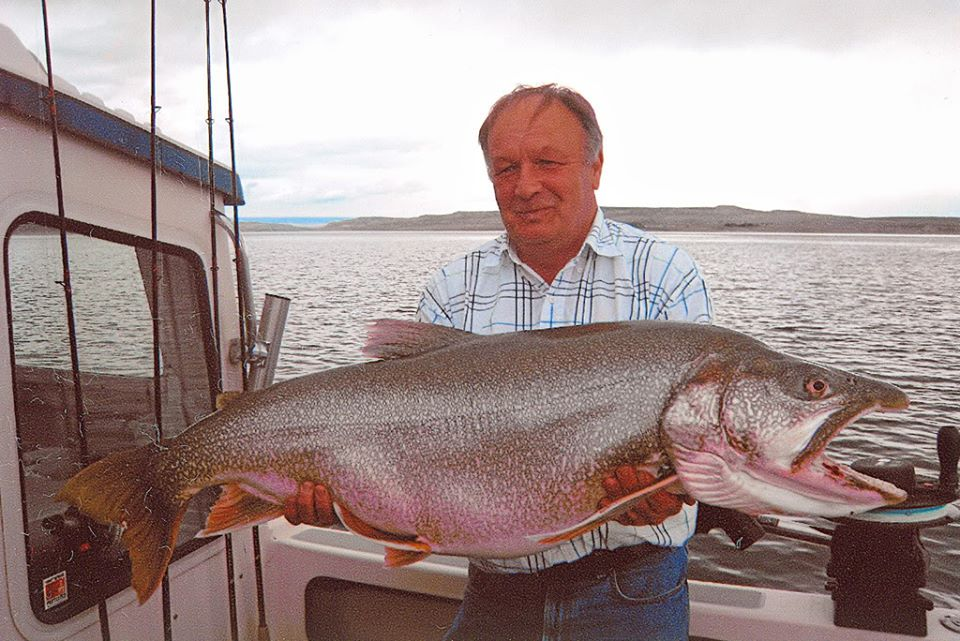 Now retired from guiding at Flaming Gorge, Davis has many great angling memories. He found that the traditional lures of the day such as large spoons and wobblers were no longer producing. The big trout were becoming wiser and warier. So, Steve began experimenting with small penny-sized spinners which had a more enticing action to them. And he put them on 150-foot lines in some 100 feet of water or more to coax in the leviathans when no one else could get them to hit.
Davis says he trolls with down riggers and lures that trigger savage strikes.
"We use light tackle so that you will feel all the power of these monster fish," he said. "Typically, it will require 15-30 minutes to get them in on
15-lb. test line. When a big one hits, all heck breaks loose; the rod doubles over, and the reel begins to scream."
At one time, he tended two young boys left to his care by their father. When Dad returned, the lads showed them the giant Mackinaw they had subdued. Both had fish over 40 pounds!
Steve also got his fishermen into big kokanee salmon. This is the forage fish which grows giant macks, but at three pounds or more, the kokanees are a target fish in themselves.
Davis uses a 22-foot C-Dory boat with twin 50-horsepower Honda motors. The boat provides sleeping berths, cooking facilities, enclosed deck and, with Davis' knowhow, all that was needed to reach the 91-mile-long lake's hot spots.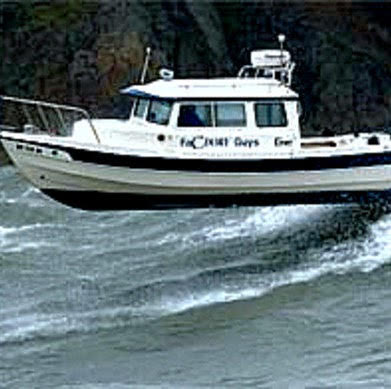 Davis issued these instructions for future anglers seeking trophy lake trout on Flaming Gorge: April through August and December until ice up. This is a surprise to many anglers because "lakers" move into shallow water to spawn in late October-November. He says the Gorge produces the largest kokanee salmon in the country and best time is mornings from June through September. Brown trout are the hardest to target but best coaxed to the hook April-June and late October-December.
Rates change from year to year. If interested in going after the big one today, contact the U.S. Forest Service (435-784-3445), since they control the marinas where all guiding originates. Of course, you can go on your own and put in at Sheep Creek or other points.
Weather can be cold at the lake's 6,000 feet elevation; bring coats, even in summer. Beware of high winds. If they threaten, get into a side bay. The latter are usually good spots to go after rainbow trout and smallmouth bass. The bass normally hug the shoreline.
To reach Flaming Gorge from Dixie, follow Interstate 15 to Provo, proceed up Provo Canyon and I-80 to Evanston, then exit eastward for the community of Manila.
Now in Dixie, Davis is getting to know the fishing in local hot spots — like Sand Hollow for bass, the Enterprise lakes for rainbow trout, Quail Creek for both, and after ice-out, Kolob and the higher elevation lakes.Obviously, he knows how to get into the big ones. Contact him at 801-572-2024