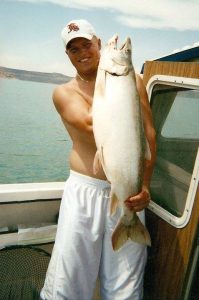 Captain Steve's Best Lake Trout Lures for June !
Captain Steve now has over a thousand people using his lures and the feed back is very positive. So here his list for June, based on reports from our customers on what's working. If you have a report, please send it to trophyfishingguides@gmail.com, or post it on Trophy Fishing Guides Facebook page.
Each lure that Trophy Fishing Guides makes has unique qualities that attracts and catch certain types of fish, when fished in a particular way. Although one size or color of lure on many days might be red hot, on other days you may not catch any fish with it. That is why you should always try a different lure if after a hour or two, you have caught nothing.
My top 10 Lake Trout Lures for June, 2016
1. Sm BLUE KNIGHT
2. Sm GREEN MACHINE
3. Sm MAC ATTACK
4. Sm WHITEY TIGHTY
5. Sm EXCALIBUR
6. Sm AFTER DINNER MINT
7. Ex Lg RAINBOW
8. Sm BEAR LAKE SECRET
9. Ex Lg KOKANEE
10. Sm TEMPTATION